Bookplate Design: Round Art Deco Style Personalized Bookplate
This round art deco style bookplate sticker has the words "From the Library of…." and allows for customization with your name on the bookplates. This makes a great gift for the readers in your life. These labels help to keep your home library organized. They also remind those you've lent books to where they came from.
In addition to the design blow, in an Art Deco style, I've done several more. You can see all of my bookplate designs here. 
What is a Bookplate?
A bookplate is basically a custom book label or sticker that you stick inside of the front cover of any book in your personal home library. By doing so, when you lend your book out, the borrower can see where it came from. I don't know about you, but I always prefer to get my books back.
Most of the time bookplates include the Latin phrase, Ex Libris. I'd define ex libris to mean "From the library of". In other words, the meaning of ex libris is, "This book came from so and so's collection". Ex-libris doesn't mean an actual library.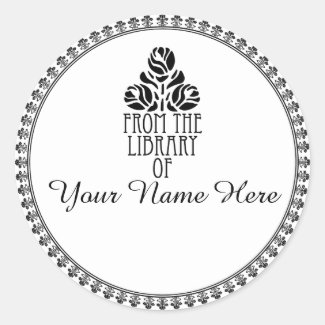 Round Art Deco Style Bookplate
On Zazzle, you'll find other designs I've created too. I not only have more gifts for readers, but I have t-shirts, labels, mugs, magnets, and more. There are more posts here on my website showing you the different designs I sell on Zazzle. 
If you are looking for more information on how to sell on Zazzle, I have that too. I've written a few posts on getting started selling on Zazzle.
---
---